---
I was moaning in therapy that I seem to only get to be 'part' of my family (and-metaworldview-too) whenever there's something of a crisis going on.  All of a sudden I'm there, being all manly, sorting shit out.  I adapt, spend more time with the kids, make all kinds of phone calls and arrangements that I would never dream of doing if the need was mine.  I 'turn up' in case of emergencies but otherwise I'm out of the way.  My therapist reflected that I sounded a bit like an ambulance, chasing around, and had this catchy phrase about 'people NEEDING an ambulance but not WANTING one', that stuck with me for a week.  Gnawing.  Hmm.  She's good.  I would've been prepared to argue the semantics: that 'needing' is just 'really really really really
really
wanting' something, but I understood her point, so didn't. 
I decided - there and in the moment - that I want to be more of a VW Camper: everyone wants one, nobody needs one.  She thought this a good metaphor, but I'm already picking holes in it.  Do I really want to be a high-maintenance luxury item, a financial black hole, a vanity ob
ject?
 
My eldest daughter, in her days of roaming with her gang around industrial waste sites, took a photo of a discarded ambulance that had been stolen, ransacked, then dumped near the old Avon cosmetics factory.  Ding dong.  She framed it for me a couple of years ago, knowing my penchant for urban decay and krunk.  Crack heads might have been living in it.  Note the lovely rickety bed trolley frame and the not-so pristine, emptied cupboard space with white paint, stripping; the blood red linoleum and the hatch with the Mind Your Head sign.  It had perspective, grime, and rust, but wasn't much good as an ambulance.
 
Me all over.
 
The Mind Your Head sign… was a sign.
 
And that's the thing.  I'm a shambles of an ambulance.  Or a sham of one.  Either will do.
 
Or not do.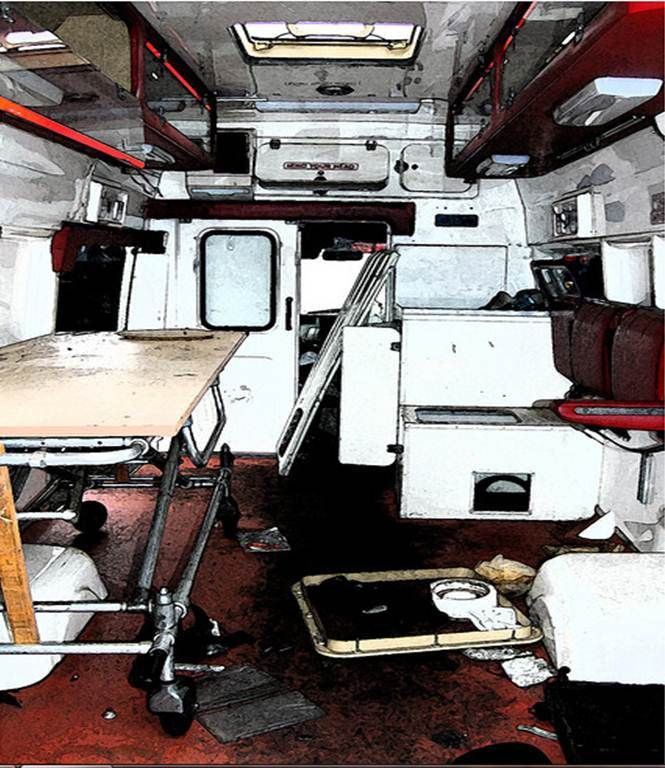 As an aside, I asked her to send me the jpeg as an email so's I wouldn't have to take the framed print to therapy tomorrow, but she directed me to her flickr site (everyone's a blogger!), where I still couldn't download it.  Some rights reserved.  I bit off more than I could chew visiting her photostream!  It was definitely less reserved.  I texted her after, saying, 'Blimey, you could have warned me about the cleavage!'  She answered, and I sic-quote, 'That should be a given.  You kno what kinda photography I experimented with.  And an artist must not b afraid to use oneself'.  What kind of monster have I created.  Talk about reap what you sow.  I think that was exactly the same line I used when telling her mother I fancied a night on the heroin.
There are no comments on this post yet, be the first to leave one!
Previous Posts
78s,

posted August 17th, 2013



Oh, Excuse You!,

posted May 7th, 2013



Immigrants,

posted May 6th, 2013



Nucleus Accumbens & First Album Rule,

posted April 13th, 2013



Short staff, the PM and BST,

posted March 30th, 2013



Past the Ides, Fools to come,

posted March 28th, 2013



Flags,

posted March 23rd, 2013



Girly Night,

posted March 19th, 2013



Under the influence of Descartes,

posted March 16th, 2013



Ghost,

posted March 10th, 2013



A random ramble - Keep Calm, Pick a Pope,

posted March 2nd, 2013



Fighting Genocide one bad metaphor at a time,

posted January 24th, 2013, 1 comment



The Man-Code,

posted January 21st, 2013



I don't get invited to many dinner parties,

posted January 19th, 2013



Cold Snap,

posted January 17th, 2013



The Christmas Party,

posted January 4th, 2013



Name dropping frenzy,

posted December 22nd, 2012



Shambulance,

posted December 20th, 2012



Honey Bunny,

posted December 3rd, 2012



Shoegazing and Bobs,

posted December 1st, 2012



Ohana,

posted November 3rd, 2012



Holloween,

posted October 28th, 2012



Transference confession no#15,

posted October 19th, 2012



Weirdness,

posted October 6th, 2012



a solo phenomenon,

posted October 4th, 2012



Acral lick,

posted September 25th, 2012, 1 comment



Bumping into,

posted August 18th, 2012



Tat and clutter,

posted June 27th, 2012, 1 comment



Utilities,

posted May 4th, 2012



Biodiversity,

posted April 5th, 2012



It's Secularism gone mad!!!!,

posted February 10th, 2012



Any biologists or zoologists out there?,

posted January 29th, 2012



Clutter,

posted December 23rd, 2011



The Reverse of Dorian Gray?,

posted December 12th, 2011



Open Mic Rant no#6,

posted November 23rd, 2011



Just one more,

posted November 7th, 2011



GreasyGrebDeath,

posted November 3rd, 2011



Sylvia,

posted October 15th, 2011



Exercise No#3,

posted October 12th, 2011



My Dad the Master Criminal,

posted August 12th, 2011



Moan moan moan,

posted July 21st, 2011



The empty chair,

posted June 22nd, 2011



Soup,

posted June 18th, 2011



Safer reading,

posted June 6th, 2011, 1 comment



Lost and found and lost again,

posted May 12th, 2011, 1 comment



Poppy Somniferum,

posted May 4th, 2011



OS maps don't tell us everything,

posted April 26th, 2011, 1 comment



Tourism,

posted April 25th, 2011



The getaway,

posted April 21st, 2011



Troubles,

posted April 19th, 2011, 1 comment




Blogroll

Here are some friends' blogs...

Help
Embed Photos
Embed Videos